2nd Alton

home

Christmas Posts

Since their founding in 1984, 2nd Alton (Hampshire, UK) has operated a Christmas card delivery service in Alton, and in 2000 almost 3500 cards were delivered. Operated under general licence from the Royal Mail the service is particularly appreciated by elderly people, and used by most Church families and many in the wider community.

So how does it work? A sheet of 40 self-adhesive stamps is provided to each BB family, to be sold to family and friends. Stamps can also be bought from the church foyer which is open every morning. Stamped cards are brought to the BB meeting, or posted in the post box at the church.

The cards are sorted, just like the Post Office, into "beats", and each Boy in Company Section is asked to make two delivery rounds (in 2001, the 27 boys had 60 or so cards on each occasion) in the areas generally near their home in the ten days before Christmas. And unlike the normal postal service, 2nd Alton promise that all cards will be delivered before Christmas!

Each Boy and member of staff receives a Christmas card from the company with the stamp as a souvenir.





1984





1985





1986





1987 & 1988





1989 & 1990





1991




1992 & 1993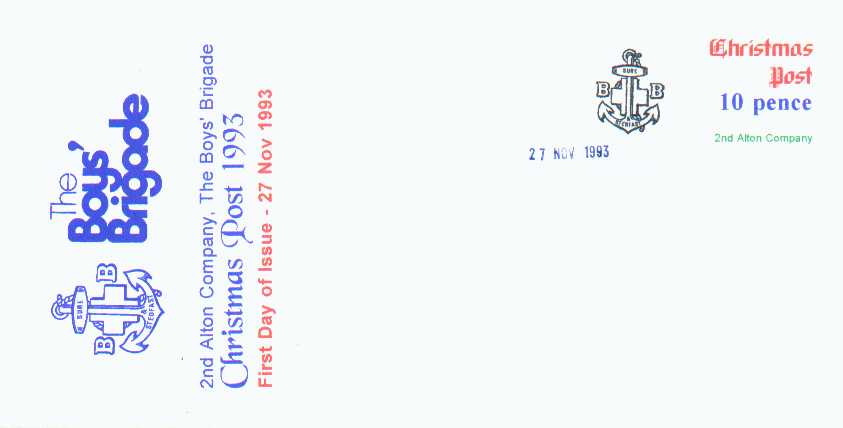 1993
1993 also saw the introduction of a First Day Cover for the service. It also saw the production of extra colour-printed ones as an experiment. They were used on the FDCs and also on the cards sent by the BB Company (about 80) and a few sheets were sold to church folk. The experiment has not been repeated because they took much longer to print and as they are Inkjet rather than Laser printed, the colours ran when the stamps got wet!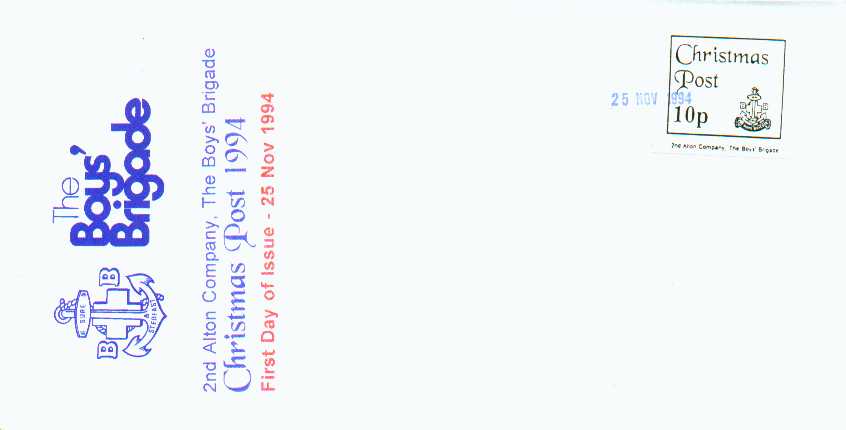 1994





1995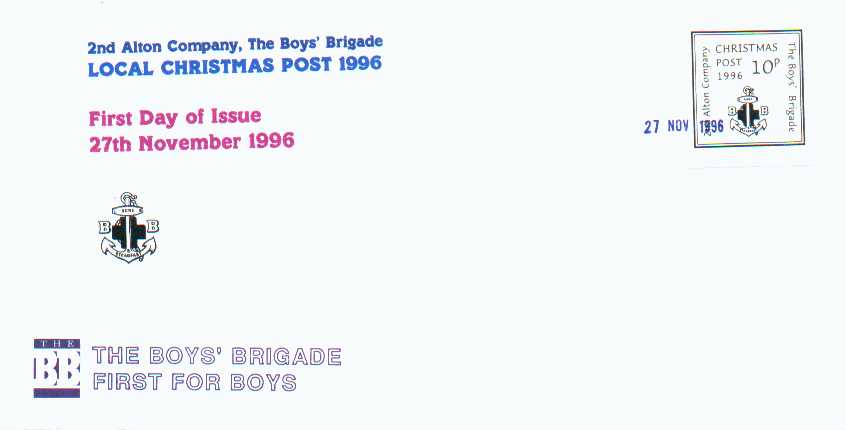 1996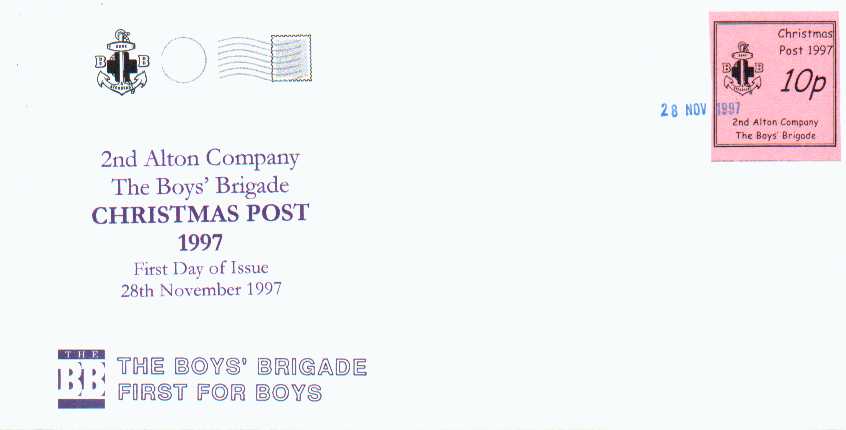 1997
1997 saw the introduction of stamps printed on coloured paper.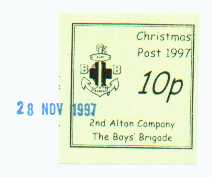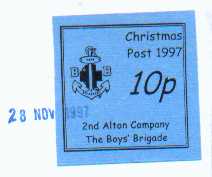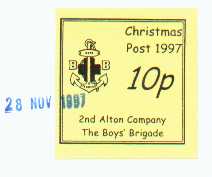 1997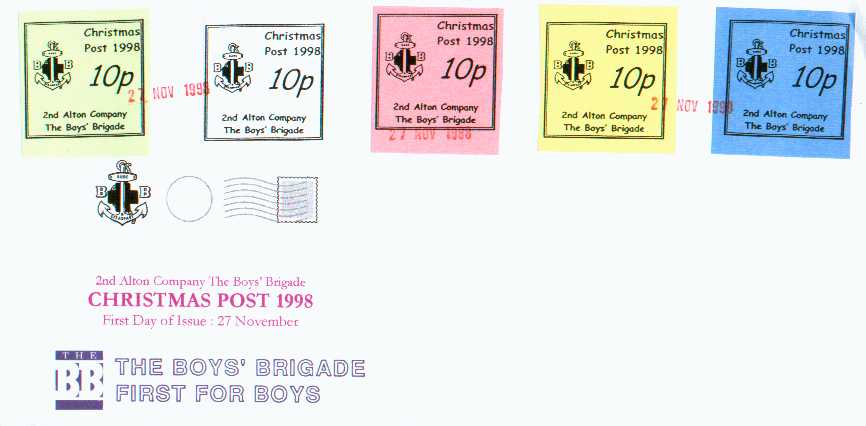 1998





1999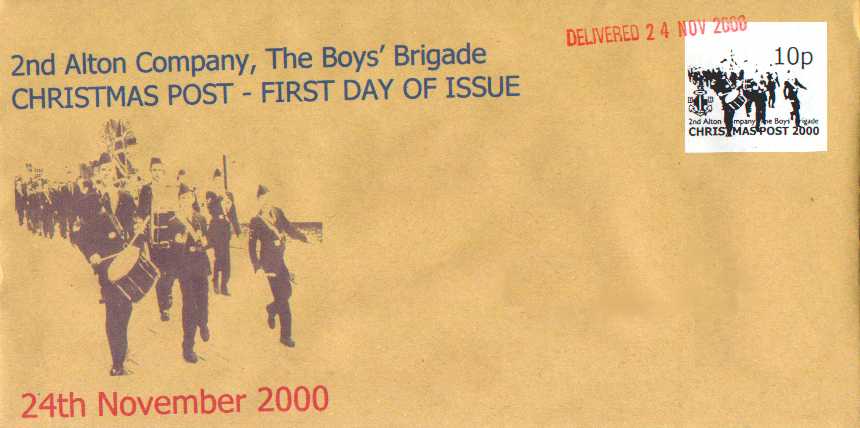 2000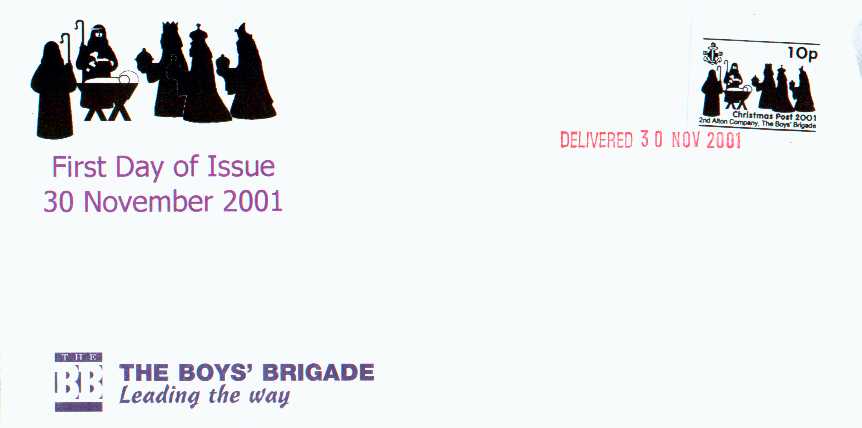 2001


Christmas Posts

home